Our Beginnings
This is a letter from Colie's Closet founder Jenna Machado explaining our beginnings.  Though the members have changed since this letter was written in 2004 and we no longer collect clothing as fundraisers, our mission remains the same.
Hello my name is Jenna Machado. I am thirteen years old and I came up with a great community service project that I invite you to be involved in. The project is Colie's Closet, in honor of my cousin Nicole Michalski, who we called Colie.
Colie took her life on December 31, 2003 at the age of 20. Colie was a beautiful, loving, smiley young lady who touched so many lives in the short time she was here on earth. She was a loving daughter to her parents, John and Angela, a sweet sister to Marisa, and an awesome aunty to Kiele. Colie was a devoted granddaughter, niece, and cousin. She was a loyal and trusted friend to many.
The last time I talked to Colie was at our family Christmas Eve party. Our conversation was like all the other conversations we had. She was interested in my life, and what I was doing. She was happy and so nice, listening so intently to my every word. She told me that she was proud of me. Later that evening, Colie went to my mom to tell her about our conversation and that she was happy that I was growing up to be a great kid. How my mom and I wish that we could go back in time and talk to Colie once more. This time we would talk about her rather than me. Perhaps we could have picked up on her despair. Perhaps we could have helped. Although we can't go back in time, we can move forward and make a difference for all the Colie's in the world. Please join me to make a difference.
Colie's Closet is the name I gave the project because it tells a story, and because it's what the organization is about "Colie". The word "closet" has two meanings; people keep their feelings locked inside themselves, deep in their hearts, like they are locked up in the closet. Since the organization will raise funds through the sale of used clothing, which people keep in their closets, the name is well suited for the cause of suicide prevention.
Colie's Closet is a nonprofit organization providing financial assistance for professional treatment of depressed and suicidal individuals. The organization is composed of teenagers and young adults working together to further the understanding and treatment of depression and the prevention of suicide. Money will be raised through the sale of gently used clothing. Proceeds will be used locally for education and treatment of depression and suicide prevention.
The organization will involve middle school, high school and college aged individuals who will work without pay for community service hours. In addition to collecting and selling clothes, each volunteer will be educated about depression, the warning signs of suicide, and how they can help someone in despair. We will also provide educational materials about depression and suicide at all our drop-off and sale sites.
We will work with the middle schools, high schools and colleges in our area. We will encourage church youth groups, the Girl Scouts, Boy Scouts, and other organizations to be involved. We will also appreciate help from others willing to advance our cause.
The collection of clothing will be done at middle schools, high schools and college campuses as well as our sale site. There will be two clothing drives each school year, one in the Fall and one in the Spring. Clothing will be sold at varying local churches and synagogues on the first Saturday of every month.
Our aim is to work and educate teenagers and young adults about depression and suicide. Our goal is to prevent suicide. Since kids discuss their feelings mostly with their friends, and not often with their parents, a friend who is educated about depression and the warning signs of suicide, might be able to help a friend with their feelings of despair.
We hope to serve as a role model, so that a Colie's Closet can be started in other communities in other states. Our dream is that our cause and effort will grow nationwide.
Please join me and my dear friends, Amy Eisenberg, Machal Gradoz, Abbie & Bonnie Hebein, Alexa & Carissa Mehos, Anna Padilla, and Sean Palmer to make Colie's Closet happen, we would love it!!!!!
ABOUT COLIE
A Letter from Colie's Mother:
Dear Friend:
My youngest daughter, Nicole (Colie), from all appearances seemed to have everything going for her. Colie was loving, caring, and sweet. She loved spending time with family, friends, and her boyfriend, Nick. Colie was employed as a nanny caring for two preteen girls and was attending College for Massage Therapy. She enjoyed her many travel experiences with family and friends. Colie was known by all for her love of music and her gifted singing voice. From elementary through high school she performed in school plays, talent shows and even sang the National Anthem during Homecoming of her Senior Year. She wrote, recorded and has copyrights to her song "Living on the Edge."
At the age of 20 on New Years Eve 2003…Colie took her life. Marisa, Colie's oldest sister and I found Colie hanging in her room. That memory will never be forgotten, the pain remains and our lives changed forever.
Why did this happen? Why did she hide her pain? Why didn't we see the red flags?
Trying to make sense of it all, I researched the subject of suicide and its shocking statistics. According to NHSDA of the U.S. Health Department, in the year 2000 there were approximately 2700 suicide attempts each day for teens ages 12 through 17. Suicide claims the lives of over 100 young people per week in the United States. Drugs, health professionals, and hotlines help to deter suicide, but we must do more. It is urgent that depression and suicide prevention education reach elementary, middle schools, high schools and colleges. Depression is treatable and suicide is preventable.
Colie's spirit lives on through Colie's Closet, a nonprofit organization that will provide financial assistance and educational resources for the professional treatment of depression and suicide prevention. Your supporting Colie's Closet will make a difference to helping at risk individuals live on. Thank you for your help.
Sincerely,
Ange Michalski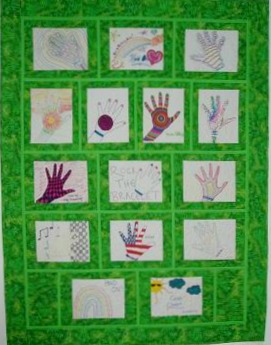 Hands of Hope and Inspiration | Created by youth at the 2005 Boulder Creek Festival | Quilt stitched by Peggy Underwood | Shown at the Colorado State Capitol building in 2007